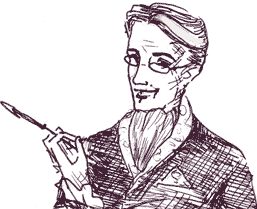 Papa Redcloud
My stories differ from real Nancy Drew stories in that 1) time goes by, 2) there are real consequences for the characters as a result of the ordeals they go through, and 3) there is more intentional humor. Also in my tales Bess and George are more important, real co-protagonists with Nancy Drew. Events are frequently told from their points of view and Nancy is sometimes offstage for chapters at a time. All three girls, and Ned as well, have more sharply developed personalities, talents, and interests. Nancy wears glasses. There are many more cultural references. While preserving a portion of the characters' traditional naivete, the stories put them in situations where there is real adult peril.
These new tales have some features in common with the Carolyn Keene canon. I have used unnecessarily arcane vocabulary whenever possible, and inundated the reader with as many adjectived and adverbs as possible. Chapters often end with a cliff-hanger. Nancy is very clever, but often too clever for her own safety. Bess likes to eat, and George is a tomboy. River Heights has an uncertain location, and the state name is never mentioned.
Nancy Drew and related characters are used without permission. We make no claim to them, and we will never attempt to use them for profit. The actual stories published here are original work, however. They are intended to be enjoyed alongside the originals.
These stories are an homage to the "real" Nancy Drew canon, which we encourage readers to explore. The actual books feel good to touch, have pleasant smelling ink, and pages that are nice to turn. They are excellent to read in the bathtub, particularly when you don't drop them in. Readers are encouraged to buy them, and to search them for the passages that prefigure the tales of Papa Redcloud. For even in the originals there is some good Bess humor and George does once get post-traumatic stress syndrome. And if you can figure out where River Heights is located, from the clues in any or all of the Nancy Drew books, then we invite you to publish your analysis. You might win a Pulitzer Prize!