CAPTION THE SENATOR CONTEST!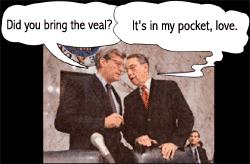 Now, finally, you can take part in America's glorious democratic process by putting words into these senators' mouths. Ban pollution! Increase funding for schools! Make 'em swear! The world is your pork barrel legislation, or something.
Just fill in the captions, enter your name and email, and submit. The writer of the best caption will recieve a free L&E T-shirt. Runners up will have their captions published on L&E. Big whoop. Contest ends... um... let's say in a month, or whenever we have a lot of good captions, or when we remember to end the contest, whichever happens last.