PAUL'S DRIVING MANUAL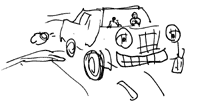 As you embark upon your career as a driver, you are being given a privilege as well as a responsibility. Your privilege is that you can go to Taco Bell whenever you want; your responsibility is that you must not kill people. To this end, you must exercise a high level of alertness and caution at all times. Remember: driving is a terrifying and cruel god, who derives joy from human suffering.
BEFORE YOU START YOUR CAR
Before you turn the ignition key, there are several steps you must take to ensure that you and your passengers are suitably impatient.
Adjust your seat.
Adjust the ventilation.
Adjust the mirrors.
Lock your doors.
Fasten your seatbelt.
Check to make sure that all your passengers have fastened their seatbelts like the narc you are.
Check under the car and around the wheels to make sure there are no obstacles or impediments to driving.
Yes, we are aware of the tragic irony that steps 4 and 5 (lock door and fasten seatbelt) seem to be rendered useless by step 7 (which involves getting out of the car). But this list of steps has been passed down from driving manual to driving manual, and if it's good enough for the 48 contiguous states, it's good enough for us. As we see it, there are three easy ways to complete these steps as they are written.
If you have a gaseous form, you may seep out of the car (see step number 2) and gather in a mist around the wheels to check for obstacles. Then seep back in. This also works if you are made of liquid metal.
If your arms are infinitely extensible like The Elongated Man, you can unroll the windows and grope around the wheels.
Or you can unbuckle your seatbelt, unlock your door, check under the car, get back in, and repeat steps 1 through 7 infinitely. This option may be time-consuming, but it has been shown to reduce highway fatalities by over 30%!
THE IDPE DECISIONMAKING SYSTEM
Click here for more information.
HOW TO PULL OUT OF A SKID
Do not hit the brakes. Reduce your speed while tapping the brakes gently and turn into the skid. Unless you have anti-lock brakes, in which case you are not to tap your brakes, but accelerate while turning your wheels to the right (if driving uphill) or left (if driving downhill). If you're not sure if you have anti-lock brakes, consult your car's manual, WHILE YOU ARE IN THE SKID. Not doing so might be the last mistake you ever make.
In the event that you can not use the brakes, slow down by driving your car into an object. Do not choose a hard object, like a tree. This could prove dangerous. Instead, drive into a soft object, like a seeing-eye dog or some quicksand.
IDENTIFYING COMMON ROAD SIGNS
Click here for more information.
BLIND SPOTS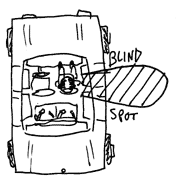 You have several blind spots while you're driving. Make sure to check these before turning or changing lanes.
1) The passenger in your passenger seat has a large, ungainly head which blocks your view of traffic. Craning your neck to try to see around him will just cause accidents. In order to solve this problem, your passenger should be fitted with a clear glass head. WARNING: Do not use your passenger's head as an aquarium. Because of perspective, it will appear that there are giant fish swimming next to your car. This condition is known as "highway hypnosis."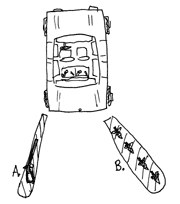 2) There are two blind spots diagonally behind your car, which can not be seen in the rear view window or by looking behind you. These spots are small, but dangerous. Just look what can be hidden in these blind spots:
A: A loaded rifle, pointed right at your head!
B: A diagonal line of killer Africanized bees!