| | |
| --- | --- |
| | by: Chefelf |
In the summer of 1993 Paul, Nate and Laura went to England. We'd like to say that after three weeks we returned to the United States with a better understanding of English life and culture. Unfortunately we were young and stupid so all we came back with was stories about hanging around the place we stayed watching "Telly". Also we went to see Jurrasic Park... great flick!
Nate kept a journal of his travels in Great Britain... Paul and Laura kept similar books but filled them with silly drawings. Presented here for the first time is Chef "Nate" Elf's English Travel Journals.... enjoy.
[The words in red are the words of Present Day Nate. You don't think that's too vain do you?]
Day 21
Thursday August 12, 1993
10:08 A.M.
Today we're going to Birmingham. On the way we're stopping in Coventry. I was wrong about yesterday. This is the last trip of the vacation. Tomorrow we're going to downtown Reading. We've been there a million times before.
[Actually more like twelve times.]
3:30 P.M.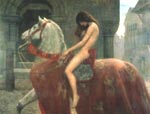 We're finished in Coventry. The Patron Saint of Coventry is Lady Godiva and they have a statue of her on her faithful steed outside a shopping center. The shopping center had a fake ice rink in it. Everything in this town is dedicated to Lady Godiva. We went out to eat at some pool hall type place. I hope Laura's French Fries stay in her stomach because as always she's sitting next to me in the car.
6:05 P.M.
On our way back to Reading. We didn't spend much time in Birmingham. We went to a library for some reason and got Cokes. But we get Cokes everywhere we go. Paul and I planned a little thing on Laura while playing hangman so we could trick her. We planned that we'd use the words: Paraguay, Montevideo, Brittania and Queen Elizabeth II. We won! I'm starving but there's no food in the car so we're designing space ships instead.
[What would you do?]
7:32 P.M.
I woke up from my nappy poo and went to a gas station to buy peanuts and Dr. Pepper. Laura was humming and making loud noises while I was sleeping. She's an annoying little speck, but I love her anyway.
11:32 P.M.
Home at wonderful Bulmershe. We watched a Bit of Fry and Laurie. Time for bed.
[Today's grade: C+, we actually went to a city but failed to do anything cool as usual.]
End of Day 21
Next time: We hang out in Reading and get into a car accident!