Jacques (Redcloud Brother)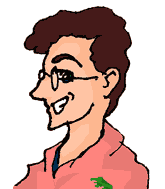 Jacques likes cheese, and lots of it. In addition to which, he may or may not have done numerous interesting things such as author various witty stories, publish a rock biography on the band Aerosmith, date Cher, write articles on music, and work for various, intriguing and arguably legitimate, publishing places such as Simon & Schuster. A play of his was recently performed at the Lee Strasberg Institute in New York to a full audience and rave reviews he raved after having eaten too much pizza.
Recently, he's been mentioned in the Mississippi Review, an esteemed literary magazine publishing some of the greatest writers in the English language. Go to their website and read the introduction letter for the spring 2001 short story issue. Jacques is the "joker" they refer to in their letter. They are the "dicks" he refers to in his bio. Dicks. (Also, the editor for that issue stole that last bit in his intro letter about the thieves from something Jacques actually wrote in his own cover letter). Dicks.
Currently, Jacques also writes for the (arguably) humorous site www.LanceandEskimo.com. It's the funniest thing since hell, sliced bread, and Sri Lanka. And you may just win something if you're Kurt Russell!
I can-- I mean Jacques can be contacted at jacques@lanceandeskimo.com.
If he's not there, please leave a message.
He's still single ladies! Reserve your dates now with the ongoing "Win a Dream Date With Jacques" marathon contest.
Enter to win a dream date with Jacques in this randomized prize drawing. Multiple entries are acceptable. Click here to see if you've WON.
Additionally, Jacques has been the editor-in-chief of a humor magazine. He has also not been the editor-in-chief of a humor magazine. Though he does still smell quite funny.
Disclaimer: Please note that no monkeys were zapped or punched during course of this bio. Though some were approached to switch their long distance phone carriers.



All of Jacques's Articles
11-7-02 Halloween Article?: Why didn't Jacques write a Halloween article last week, on Halloween?
10-31-02 Violent Entertainment: Why is violence so entertaining? Perhaps it's because there's not enough nudity on television.
10-24-02 Emmy Fever! - Part Two: Jacques steals an Emmy!!!
10-17-02 Jacques's Play Hits Broadway!!!: Jacques dons a monocle and prepares for greatness.
10-3-02 Emmy Fever! - Part One: Jacques wins an Emmy!!!
9-26-02 The Spectacular Gatsby: The adventures of literature's greatest Gatsby must continue!
9-19-02 History's Debacle: Cheryl Tiegs versus Honoré de Balzac. Bear witness to the memorable, yet terrible, clash of titans.
9-12-02 Genetic Frenzy: Studying the intricate nature of DNA is just like teaching a dog to bake cookies. You can probably do it if you spend enough time, but it's just not worth the effort of wiping up all that slobber. It's easier to handle things the old fashioned way: with phrenology and koalas who can cook.
9-5-02 Embassy Blues - Reprise: And so, the Iraqi embassy takes a bow, and Jacques's troubles return for an encore.
8-29-02 Embassy Blues - Part Two: Jacques's situation grows slightly more complex, in a festering sort of way.
8-22-02 Embassy Blues: Jacques's article this week is postponed on account of him getting caught up in the besieged Iraqi embassy in Berlin. Rather, what follows is an account of Jacques's situation and the subsequent dispersal of it.
8-15-02 How to Safely Invade Iraq: More classified information leaked from those idiots in Washington! If only someone would explain to them that classified means "not telling other people about it". Idiots.
8-8-02 He's Back: Guess who's back, and now with his own daytime talkshow... The scourge of the 20th century!
8-1-02 The Henchmen Cooperative Project: Matching industrious henchmen with incompetent employers since 2002.
7-25-02 Behind Lawyers: An examination of those books lawyers keep behind them.
7-18-02 I have a dream: Jacques dreams about things other than the Pasta Wars of 1744.
7-11-02 The Business of Religion: Jacques goes door to door selling people on the religion of Urnootzra.
7-4-02 Happy Holidays!: Merry Christmas to all!
6-27-02 The Romancing of Inbal - Part The Sixth: Letters to Inbal continue as the excitement mounts!
6-20-02 Zabibah and the King and Jacques: Jacques takes it upon himself to translate Saddam Hussein's romance novel.
6-13-02 The Romancing of Inbal - Part The Fifth: The Inbal Chronicles continue with Letters to Inbal.
6-6-02 At the rodeo with Natalie Portman: Jacques accompanies Natalie Portman to the rodeo.
5-30-02 The Romancing of Inbal - Part The Fourth: Jacques considers revising himself in order to become a more appealing human being and win Inbal in the process.
5-23-02 Fruity Markers: Why the arts remains such an important appendage to the educational structure.
5-13-02 The Romancing of Inbal - Part The Third: Jacques pauses to ponder his attempts at winning Inbal's affections.
5-9-02 A Matter of Clarification: Is Jacques working for Saturday Night Live?
5-2-02 Potential Video Games: The necessity of training children for the future may be relieved through a handy medium.
4-25-02 The Romancing of Inbal - Part The Second: Jacques's quest to win the heart of Inbal continues as he updates his profile accordingly.
4-18-02 The Intricacies Copyright Law: Jacques investigates the brilliant intricacy of copyright law.
4-11-02 The Romancing of Inbal: Perhaps the most breathtaking thing you'll ever experience. Jacques's epic quest to win the heart of an ambivalent Jewish single.
4-4-02 Jacques's Outlet: Jacques expounds upon his life's work and focus, to some degree.
3-28-02 The Possibilities of Awards Shows: Jacques examines the unfairly overlooked possibilities of awards shows.
3-21-02 The Passions of Greedo: Since 1977, One Star Wars character has outshined all others. One character who until now has hesitated to share his emotions; his triumph, and his pain.
3-14-02 A Note from the Pocket of Jacques: Jacques's fumbling solution to the whole dilemma of asking a girl out, diffusing awkwardness, and gentle seduction.
3-7-02 Jacques Gets His Own Website!: Jacques is moving to his own website, and stupidity is following close behind.
2-27-02 GOD EXISTS!!!: Jacques presents irrefutable evidence. And Fabio!!!
2-22-02 The Future of Technology and the Universe: A new operating system finally comes to fruition.
2-14-02 Valentine's Day: A very special Valentine's Day article for Saturday Night Live's Tina Fey.
2-7-02 Origins of the Internet: Why is it what it is?
1-31-02 Don't Abuse Drugs!: A public service announcement as part of Jacques's plea-bargained community service arrangement.
1-24-02 A New World Order: Jacques outlines his new method for dealing with difficult salespeople and other assorted morons of fluctuating caliber.
1-17-02 Leprechaun: The never-ending saga. A story older than time. An epic masterpiece.
1-10-02 Jacques Finally Does It!!!: Jacques applies for a job at Saturday Night Live with Tina Fey. He mailed the envelope while eating a powdered donut.
1-3-02 Jacques Asks Jeeves: Jacques bares his soul to Jeeves and, unlike some overpaid whore, Jeeves actually responds.
12-27-01 Bruce Campbell and Tad the Banana: Two of the world's greatest action heroes now join forces with hilarious results!
12-20-01 I Can't Believe the E-mail I Got: This is just getting disgusting.
12-13-01 What To Do With the XFL: What's the XFL up to now that the season's over and they're off the air forever? The adventure of a lifetime!
12-6-01 Jacques Sees a Movie!: Jacques attends a screening of the movie From Hell, the only movie this season in which Johnny Depp has a mustache! The movie stars Johnny Depp, that delightful guy from Nuns on the Run who isn't Eric Idle, and a swashbuckling appearance by Johnny Depp's mustache!
11-30-01 Jacques Gets Someone Suspended from School!: Jacques actually gets someone suspended from school for reading an article of his!
11-22-01 Osama!: The first glimpse at Osama bin Laden's new situation comedy! You won't find this anywhere else on the Internet!... unless they steal it from us!
11-15-01 Jacques Applies to the Daily Show with Jon Stewart!: Jacques is still looking for a job.
11-8-01 Another Stroke of Brilliance on Jacques's Part: An open letter to Saturday Night Live's Head Writer, Tina Fey (suggesting "improvements" for the show).
11-1-01 The Day I Met Bruce Campbell - Part Two: Jacques splits up his historic meeting with Bruce Campbell into two irregular parts at an awkward stopping point (like he's done so much in the past) in order to fulfill his article quota for two whole weeks!
10-25-01 The Day I Met Bruce Campbell - Part One: Wherein The L&E gang meet Bruce Campbell and Jacques makes a new friend.
10-15-01 The Apology of Lance and Eskimo Dot Com: We at Lance and Eskimo apologize for the fact that our site's been down for a few days. But it was mostly Jacques's fault.
10-4-01 It's the Muppet Show! - Part 2: Part 2 of an in-depth documentary regarding the Muppets, their life and times. The lifelike puppets who at one point had claimed to be "bigger than sex" speak out.
9-27-01 Jacques Applies For a Job with a Rival Website!: Jacques sends a letter to a rival humor site in an attempt to infiltrate, divide, and conquer it! Will his attempt succeed!?
9-20-01 It's the Muppet Show! - Part 1: Part 1 of an in-depth documentary regarding the Muppets, their life and times. Just don't fall asleep in any room with Muppets in it; you're liable to wake up with a butcher knife hovering over your torso.
9-13-01 WHAT THE FUCK IS HAPPENING TO OUR WORLD?!?: Something is definitely happening to our world, and I hope that everyone's okay.
9-6-01 An exclusive interview with Bette Midler's dog!: Get the inside scoop on what's new with Bette Midler's dog straight from the source.
8-30-01 The Onion | America's Finest News Source, which we are not: We are Lance and Eskimo Dot Com. We are not The Onion!
8-23-01 The Amazing Things About E-mail: An e-mail message that may just change your life, and possibly the world as we know it. And possibly your penis. The future is here!
8-16-01 A Plea to the Oscar Committee: This year, don't overlook obvious talent. Some people just couldn't choose the most qualified candidate if it was picking at their ass.
8-9-01 A Wishbone Young Readers Adventure!: Jacques examines the classic adventures of a dog who travels through space and time by the power of his imagination. He's obviously destined to kill us all.
8-2-01 Search for the Elusive Hawaii Steak Elf: The elf with the "coolest threads" is now out and about around town.
7-26-01 Jacques's Book Corner: Jacques reviews a Russian classic, weighs in on the sociopolitical factors governing modern-day Russia, and solves all of Russia's problems simultaneously.
7-19-01 Does Spinach Give One Superhuman Powers?: An objective experiment conducted by someone who wants to return to high school and kick some ass.
7-12-01 Erotic Science-Fiction: You know you want it. The best erotic science-fiction on the Internet and, quite possibly, in the universe.
7-5-01 The Tragedy of Snagglepuss: The tragedy to end all tragedies, literally. It is a tragedy that this was written.
6-28-01 Sh*t Happens: And thankfully John Wayne and Elvis were around because of it. Plus, constructing your own John Wayne or Elvis with all the ingredients you need right at home!
6-21-01 I'm Tito Jackson!: A Tito Jackson exclusive! Tito Jackson actually contacted us and wrote an article! Please welcome our new staff writer, Tito Jackson, the new Brother Redcloud!
6-14-01 False Advertising: An in-depth examination of how rapper Eminem misrepresents himself at the expense of a sweeter act.
6-7-01 Jacques Takes Back Concession!!!: It seems Jacques may have been a bit premature in his concession.
5-31-01 Shocking New Developments!: Jacques demands recount and then announces his gracious concession from the Cuteness Elections!
5-24-01 Cutest Redcloud Brother - Jacques: Because when he smiles, it's heavenly.
5-17-01 CHUD vs. the Board of Education: Read an excerpt from the transcript of this landmark court decision on CHUD (Cannibalistic Humanoid Underground Dwellers).
5-10-01 The Girl Who Does the News, Part 2: More of our exclusive interview with Saturday Night Live's frank and fierce firebrand, Tina Fey.
5-3-01 The Girl Who Does the News, Part 1: An exclusive interview with Saturday Night Live's feisty firebrand, Tina Fey.
4-26-01 Officer Kitty: Jacques's sure to succeed movie concept.
4-19-01 Star Wars: A Dissertation: The burning question, finally answered. Children, get your parents's permission before reading this article.
4-12-01 3000 Miles to Graceland: My Ass!: A piece to put a whole bunch of things in perspective... through my ass!
4-5-01 The Being Kurt Russell Giveaway Sweepstakes: Are you Kurt Russell? If so you can win fabulous prizes!
3-29-01 Relationship Checklist: Ten signs your relationship is on the rocks.
3-22-01 He-Man Theatre: See why Shakespeare's a bit more accessible than you may have thought. Reserve tickets at the Mattel-Hasbro Centrum.